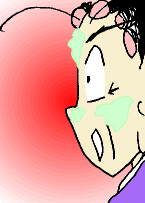 Keith wanna-be: When will you hook up Keith and Allura!
Magenta Lion: Yeah, like there is these two people I really think you should get
them together. One a commander the other a lone princess . . .
Lady Emerald: When are you going to hook up Lotor and Allura?
Don't they ever give up!
True Blue: Hi, if you are a goddess you would probably know who I am, so I'll get down to business. I am madly deeply in Love with this guy and I know he likes me too, I need you help and to break the ice.
--Allura . . . Wait was I not suppose to sign this?