main / links / comics / special feature / contact me
I'd like to spot light my newest links now. And guess what, they are actually comic related. Gee funny thing. I was directed to a Comic art page by a friend and loved the work there. Armed with the latest traditional comic style, he's built an awesome site around his art. The Artist is named Matt Tyree. Find his link to Tyree: Online below. Trust me, one day you will say 'Hey I knew him back when.' And don't forget to drop a line, and tell Judith sent you.
Along with that I did a little research for more Fan created comics... and came up empty, but found a few original Manga's... Okay actually hundreds of them. So I selected a few of my favorites. They are Tasty Graphite, Eavan Sei, Time Disorder, and Ann's Art box. Man! if I keep this up I might have to actually break my links up.
Oh and if you still have a little time left over why not actually view mine...please... pretty please?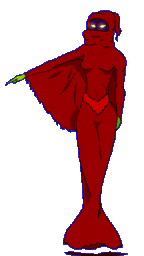 Special thanks to Suzanne from her page "Shadow Weaver best villain ever" thanks for all the great information on Shadow Weaver for my comics.
Alex and Sherry's page for character info for the rest of the cast and pictures to model mine after.
Also wanted to thank all my new friends at he-man.org for their links and discussion board, helping me find the answers to my continuity questions. With out them, and other sites I would not have known the difference between Glimmer or Castaspella. (Seriously.)


As if you could not guess from the shinning commentary I had for this site above. I enjoy this site.... a little,,, just a teeny tiny bit (being very sarcastic). Winning it the Web mistress' pick for Traditional comic art!

This is Ann's Art Box. It's a little place I often find myself. The art is great, plus the links there are all excellent.
(No banner yet) Tasty Graphite like Ann's Art Box is an Managa art site, so what makes it stand out.... but it's art of course. Winning it the Web mistress' pick for Magan art category
(No banner yet) Time Disorder has two cool on-line comics. Created by the 'People's Cartoonist' the two comics are "3rd Wish" and "Your Half." Like many of my links plan to spend a little time here.
(No banner yet) Eavan Sei if Tyree: online was my choice for 'American' comic art. I feel the same about Eavan Sei's managa art and on-line comic. Definitely this Web mistress' pick for online comics!
While chatting with a chap on the he-man.org board, I found another interesting page. What's his name you ask? Why EVIL LORD SKELETOR! (hee,hee, I always love saying that I support EVIL LORD SKELETOR.) And to follow all my other links, he drawls pictures and creates the funny little shorts strips using a Digital Cameras. Go ahead and scroll over his picture, it's the link, you'll see what happens. Come on! Your not afraid are you? Jump to his page......
Oh look it's my Great Sage action figure!
Complete with miniature casting molds and paint brush! Let's build some more action figures together!
Want to see some real "Cool Customs?"
Hit the picture and jump to Twisted Toys then Cool Customs Page and see what
Nick Cathery can really do.
Ooooooooooo awwwwwwwww! And that's just the banner! click on the link below to enter RK's awsome 80's page, even though he was barely alive then. ;) but we won't hold it against him.


Here's a quick link to the Storytellers of Greyskull's chat board for any blossoming writers. Don't forget to tell 'em Judith sent you. (I always wanted to say that.) P.S. Look at their library for great Fan-fiction based on the series.
I was wondering about the internet when I found another sister link who also drawling a comic. If the traditional filmation style of comic is more to your taste, I think I found what you are looking for. With a tantalizing 24 bit pictures and fast story plots, I definitely keep an eye on Cormak's She-ra page. New to her page is
"Dark Rain."
It's a story about one Earth girls journey through Etheria as she tries to make her way back to Earth.
Come see Lighthope's Comic entitled "Burning Day." It takes place many years after the series ended. In fact, the main characters He-man and She-ra are the original's children. I'll say no more and perhaps with a little coaxing we can get Lighthope to finish the comic.
This is the story of five space explorers who set out to explore the un-tame reaches of ...Pidge's room! Hey! giggle, giggle. click here and read about the Voltron force's hilarious daily escapades in Voltron's Dorm.
(it's also my parent site.)
All characters and places are trademarked by Hallmart © and all 'original' art is copyrighted to Shimmer Spot © productions. Please ask before borrowing any art work. I don't mind.
---
This Guardians of Grayskull site is owned by Judith.
This Protectors of the Crystal Castle site is owned by Judith.
---

This Fan Girls Comic Forum site owned by Judith.
[ Previous 5 Sites | Previous | Next | Next 5 Sites | Random Site | List Sites ]